JNET Professional Services is well equipped to understand, anticipate and respond to your evolving staffing needs. We are constantly developing and optimizing innovative staffing solutions to help you weather economic fluctuations, control costs and improve productivity. Our portfolio of service solutions enables us to meet your company's staffing needs wherever it operates around the globe and across all of your business departments.
JNET Professional Services executes its operations under the following:
TALENTSOURCE Solutions
FLEXISOURCE Solutions
Providing Exceptional

Staffing Services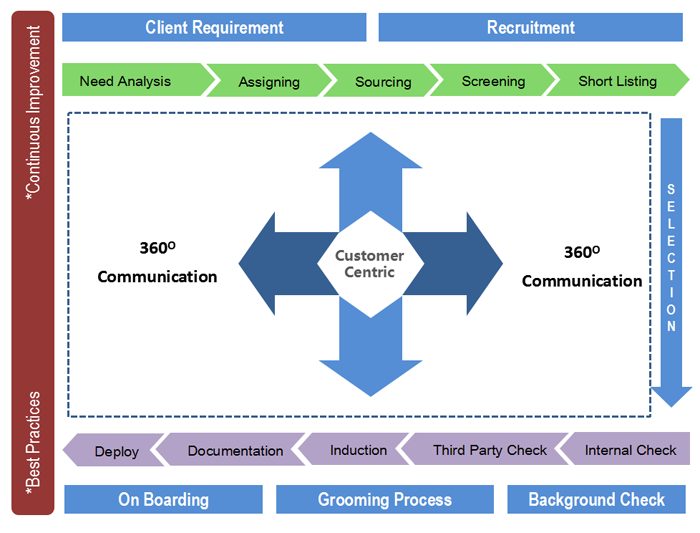 TALENTSOURCE

SOLUTIONS
Talent Source is cost-effective talent acquisition solution that enables organizations to get the right talent. It is includes permanent staffing and related services that we can provide.
We source candidates from our strong database of Software Engineers and network apart from job-boards, job postings, applicant searches and Walk in drives
We conduct Tests (online as well as offline), resume sourcing, effective background checks and training before on boarding as required by our customers.
FLEXISOURCE

SOLUTIONS
To stay ahead in today's business environment Companies depend on highly skilled flexi and out-sourced staff to keep departments running smoothly and enhance productivity. Therefore more and more clients are now relying on Flexi Source services to address their manpower need. The service levels range from out-sourcing entry-level to senior management positions, hiring staffing for Interim requirements to Temp-to-Permanent Staffing solution.
Consultants:
Hiring a FLEXISOURCE consultant is the most efficient, and often, the most cost-effective way to obtain the level of expertise your organization requires. FLEXISOURCE clients have benefited greatly from our experienced consultants in the Information Technology space
Temp-to-Permanent:
FLEXISOURCE Temp-to-Perm program, often referred to as an on-the-job-interview, is the optimum way for organizations to appraise a prospective employee before deciding to hire permanently. It also gives the candidate ample opportunity to evaluate an organization before committing to a specific job.